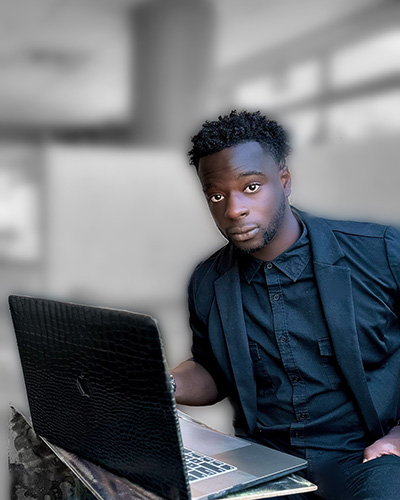 Want to be notified of news like this? Become an ECD Insider and be in the know first.
ECD Engineering Team Expands with Addition of Software Development Engineer
New Hire Aims to Streamline Current Offerings and Develop New Ground-Up Software Backbone for Company's Next-Gen Product Line.
September 18, 2023 – ECD today announced that Seydina Diop has joined the company's growing engineering team as a Software Engineer II. This is the second ECD engineering hire in less than a year, as the company has committed to – and is achieving – an accelerated product development roadmap.
Diop, an experienced full-stack software developer who has been writing code since childhood, brings over ten years of experience to the ECD team. He previously worked for an online design goods marketplace where he managed the company's social media presence and provided technical support, metrics analysis, and troubleshooting to improve the user experience. His unique skill set unites back-end and front-end technical knowledge with artistic presentation, bringing operational robustness and user perspective to his craft.
"I describe myself as having an engineer's brain with an artist's eye," comments Diop. "It's one thing to understand and be able to develop technically sound code. It's quite another to marry that skill with artistic conceptualization to ensure the user experience is visually rich, intuitive, and consistent across multiple platforms. That's what I intend to help deliver for ECD users."
Initially focused on enhancements to the company's popular OvenSENTINEL™ continuous reflow soldering monitoring technology, Diop's future assignments include the development of baking-centric profiling software, portfolio-wide MAP profiling software upgrades, and adding customer-requested features to several popular ECD products.
Micheal Pliska, ECD Director of Engineering, says, "Seydina is a great addition to our team, allowing us to bring key software responsibilities in-house which has tightened the feedback loop and enabled fast implementation. He's already been instrumental in adding OvenSENTINEL product support for global regions and has begun working on major upgrades to other ECD product lines."
Diop holds a B.S. in computer science and is proficient in multiple front-end, back-end, and database programming languages, including HTML, CSS, JavaScript, Python, C#, C++, and SQL, among others. He is based in ECD's Milwaukie, Oregon headquarters.
---
Except as otherwise noted, all marks used herewith are trademarks and/or registered trademarks of ECD and/or its affiliates in the US and elsewhere
About ECD
Founded in 1964, ECD is recognized worldwide for its leadership and expertise in thermal monitoring and analysis technology and, more recently, for its development of intelligent dry storage systems. Based in Milwaukie, Oregon, the company is a pioneer in the design, development, and manufacture of advanced in-transit thermal profiling systems and software used to monitor and analyze process temperatures in various industries including electronics, solar and baking, among others. Well-known for its data-rich software expertise and robust hardware functionality, ECD leads the industry for innovative measurement and safeguarding systems. For more information on ECD and its products, visit www.ecd.com.
Media Contact:
Laura Sims
Sims Communications, Inc.
(o) 770-829-4757
(m) 404-661-0348
laura@simscomm.com