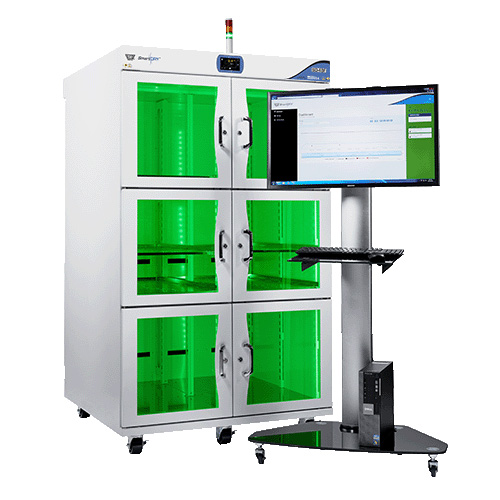 Want to be notified of news like this? Become an ECD Insider and be in the know first.
ECD to Unveil Reimagined Profiling Technology, Highlight Success of Process Control Portfolio at IPC APEX Expo 2023
Novel Thermal Profiling Capability Set to Improve Data Access; Continuous Reflow Monitoring, Machine Quality Management and Dry Storage Systems Enjoy Market Expansion
December 1, 2022 – ECD, pioneer of the traveling thermal profiler, will debut a brand-new data logging technology from booth #2425 at IPC APEX EXPO 2023 in San Diego, California next month. The novel innovation is designed to accelerate productivity through immediate access to profile statistics for fast decision-making through real-time actionable data. With on-demand demonstrations planned throughout the event, IPC APEX EXPO show delegates can experience ECD's latest engineering advance first-hand.
In addition to new technology, ECD's proven tools for high-value PCB assemblies will be on show. As automotive systems, data center server boards and 5G infrastructure technologies increase in complexity and soldering becomes more challenging, manufacturers are looking to solutions like OvenSENTINEL™ continuous reflow monitoring and the MEGAM.O.L.E.® 20 high-channel-count thermal profiler for robust soldering control to enable high-yield production of high-reliability assemblies. Due to the growth in electric vehicle (EV) volumes, data center capacity, and 5G infrastructure devices, sales of OvenSENTINEL have more than doubled in the last year alone. MEGAM.O.L.E. 20 has likewise experienced notable increases in order volumes. This demand for quality and the assurance of robust equipment operation has also driven steady adoption of ECD's suite of RIDER™ pallets for machine quality management of wave, reflow and selective soldering systems. All three pallet designs integrate with the SuperM.O.L.E. Gold 2 thermal profiler for a scalable platform approach to shop floor soldering oversight.
Finally, for industries — including electronics — where control of moisture is integral to product quality, ECD's award-winning SmartDRY™ Intelligent Dry Storage portfolio is enabling exceptional humidity control. With an ultra-fast recovery time of less than three minutes, SmartDRY combines effective dry storage with the ability to access parts frequently for maximum productivity and product integrity assurance. SmartDRY's unique features and proven performance have allowed it to maintain its leading market share in electronics manufacturing, while expanding into other markets such as 3D printing material storage, medical instrumentation, and filtration. The SmartDRY SD-30 will be on show at ECD booth #2425.
Learn more about ECD's process control innovations by visiting www.ecd.com. To be among the first to see the company's revolutionary thermal profiling technology at IPC APEX EXPO 2023, schedule an appointment here.
---
Except as otherwise noted, all marks used herewith are trademarks and/or registered trademarks of ECD and/or its affiliates in the US and elsewhere
About ECD
Founded in 1964, ECD is recognized worldwide for its leadership and expertise in thermal monitoring and analysis technology and, more recently, for its development of intelligent dry storage systems. Based in Milwaukie, Oregon, the company is a pioneer in the design, development, and manufacture of advanced in-transit thermal profiling systems and software used to monitor and analyze process temperatures in various industries including electronics, solar and baking, among others. Well-known for its data-rich software expertise and robust hardware functionality, ECD leads the industry for innovative measurement and safeguarding systems. For more information on ECD and its products, visit www.ecd.com.
Media Contact:
Laura Sims
Sims Communications, Inc.
(o) 770-829-4757
(m) 404-661-0348
laura@simscomm.com