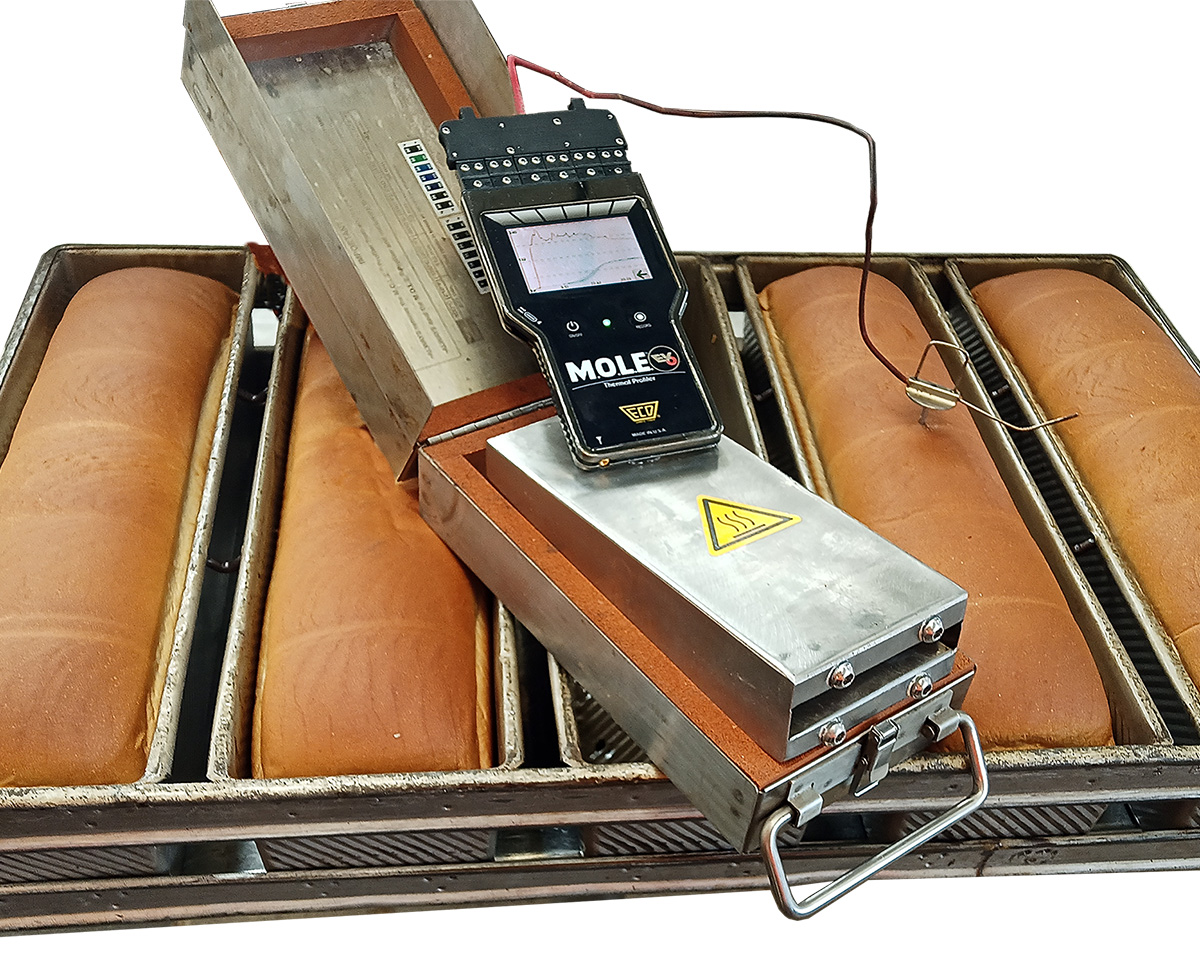 Want to be notified of news like this? Become an ECD Insider and be in the know first.
ECD's Touchscreen Profiling Technology to be Highlight of iba 2023 Exhibit
M.O.L.E.™ EV6 Thermal Profiler Offers Data Access on the Bakery Floor, Integrates with Quality Control Sensors for Scalable Solution
October 2, 2023 – ECD will bring its groundbreaking thermal profiling technology to the iba trade fair in Munch, Germany later this month, the baking process control leader announced today. The handheld M.O.L.E.™ EV6 sets a new benchmark for thermal data loggers, elevating the tool to modern technology standards with a full color touchscreen display to deliver instantaneous data access and intuitive control. In addition to the six-channel M.O.L.E. EV6, the company's BreadOMETER™, CakeOMETER™, and OvenBALANCER™ sensors will be demonstrated from iba Hall B1, Stand 124
Thermal profiling of baked goods and verification of oven performance are key ingredients for product consistency, quality, shelf-life optimization, and yield maximization. Understanding product thermal transformation and oven heat flow consistency through precise time and temperature data capture can help bakeries streamline production and preserve profitability. The M.O.L.E. EV6 now enables bakers to take this advantage further, delivering the data immediately so that adjustments can be made in real-time, and errors avoided.
Ray Pearce, ECD Baking Product Manager, has worked with bakers for over 30 years, helping them integrate thermal profiling methodologies into their operations. He comments on how the company's latest innovation can streamline baking results. "With conventional thermal profilers, data is not viewable on the tool itself," says Pearce. "Only after download to a PC are you able to make adjustments, which delays corrective measures. Now, M.O.L.E. EV6 enables access to information like S-Curve milestones and various profiling analysis tools in the palm of your hand, on the bakery floor, so immediate remedies can be implemented."
CD's M.O.L.E. platform is the data capture engine for its portfolio of sensor technologies, including BreadOMETER, CakeOMETER, and OvenBALANCER, which will all be displayed and demonstrated throughout iba 2023.
To discover more about ECD's proven baking process control solutions, visit www.ecd.com/industires/baking.
---
Except as otherwise noted, all marks used herewith are trademarks and/or registered trademarks of ECD and/or its affiliates in the US and elsewhere
About ECD
Founded in 1964, ECD is recognized worldwide for its leadership and expertise in thermal monitoring and analysis technology and, more recently, for its development of intelligent dry storage systems. Based in Milwaukie, Oregon, the company is a pioneer in the design, development, and manufacture of advanced in-transit thermal profiling systems and software used to monitor and analyze process temperatures in various industries including electronics, solar and baking, among others. Well-known for its data-rich software expertise and robust hardware functionality, ECD leads the industry for innovative measurement and safeguarding systems. For more information on ECD and its products, visit www.ecd.com.
Media Contact:
Laura Sims
Sims Communications, Inc.
(o) 770-829-4757
(m) 404-661-0348
laura@simscomm.com