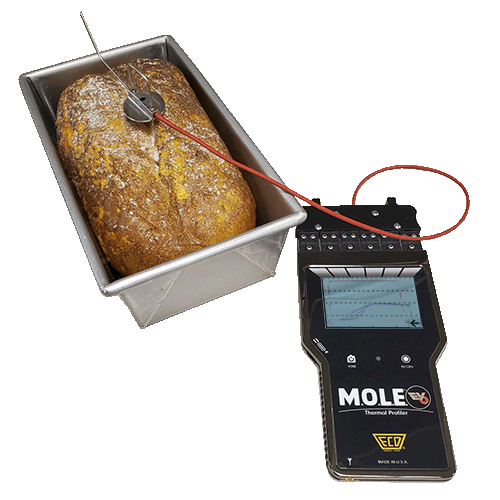 M.O.L.E.™ EV6 Delivers Handheld Thermal Profiling Control, Freeing Bakery Operators from Time-consuming, Offline PC Downloads.
March 1, 2023 – Previewed to a select audience at last year's International Baking Industry Exposition (IBIE), ECD's M.O.L.E.™ EV6 touchscreen thermal profiler is now commercially available, the company announced today. The market's first traveling thermal profiler with operation via a capacitive touchscreen, M.O.L.E. EV6 offers a user-friendly, intuitive design engineered to save baking professionals time, simplify data viewing and analysis, and improve productivity. Thermal profiling as a routine practice helps bakers ensure consistent quality and high product yields. With M.O.L.E. EV6, the already simple — but critical — thermal profiling process becomes even more straightforward and less time-constrained.
"Touchscreen control for instrumentation tools is now expected," says ECD Baking Product Manager, Ray Pearce. "However, it is not ubiquitous. ECD is among the first to break this barrier, helping baking professionals improve processes with instantaneous access to data that enables on-the-fly decision-making for process and product optimization. It's a game-changer."
With conventional thermal profiler designs, users must program, download data, and interpret results via a PC interface. In addition, the control buttons on some thermal profilers can be ambiguous and confusing, leading to errors, erased profiles, and other efficiency-killing events if operators are poorly-trained. M.O.L.E. EV6 helps prevent these situations, allowing viewing and interaction with process calculation templates, profile viewing, and pass/fail analysis on the device.
"Productivity and repeatable quality output are the keys to bakery profitability," says Pearce. "M.O.L.E. EV6 saves time on the line, reduces required training resources, and enables analysis on the production floor for instantaneous product quality and system performance oversight. Prioritizing cost-efficiency, ECD has designed M.O.L.E. EV6 to be practical and affordable with features like an off-the-shelf lithium-polymer battery, wireless Bluetooth operation, and built-in maintenance reminders.
The new thermal profiler integrates with popular ECD baking equipment verification tools and baked goods sensors, CakeOMETER™, BreadOMETER™, VaporWATCH™ and OvenBALANCER™. Shipments begin April 1st.
To learn more, go to this link and/or call +1-503-659-6100
---
Except as otherwise noted, all marks used herewith are trademarks and/or registered trademarks of ECD and/or its affiliates in the US and elsewhere
About ECD
Founded in 1964, ECD is recognized worldwide for its leadership and expertise in thermal monitoring and analysis technology and, more recently, for its development of intelligent dry storage systems. Based in Milwaukie, Oregon, the company is a pioneer in the design, development, and manufacture of advanced in-transit thermal profiling systems and software used to monitor and analyze process temperatures in various industries including electronics, solar and baking, among others. Well-known for its data-rich software expertise and robust hardware functionality, ECD leads the industry for innovative measurement and safeguarding systems. For more information on ECD and its products, visit www.ecd.com.
Media Contact:
Laura Sims
Sims Communications, Inc.
(o) 770-829-4757
(m) 404-661-0348
laura@simscomm.com