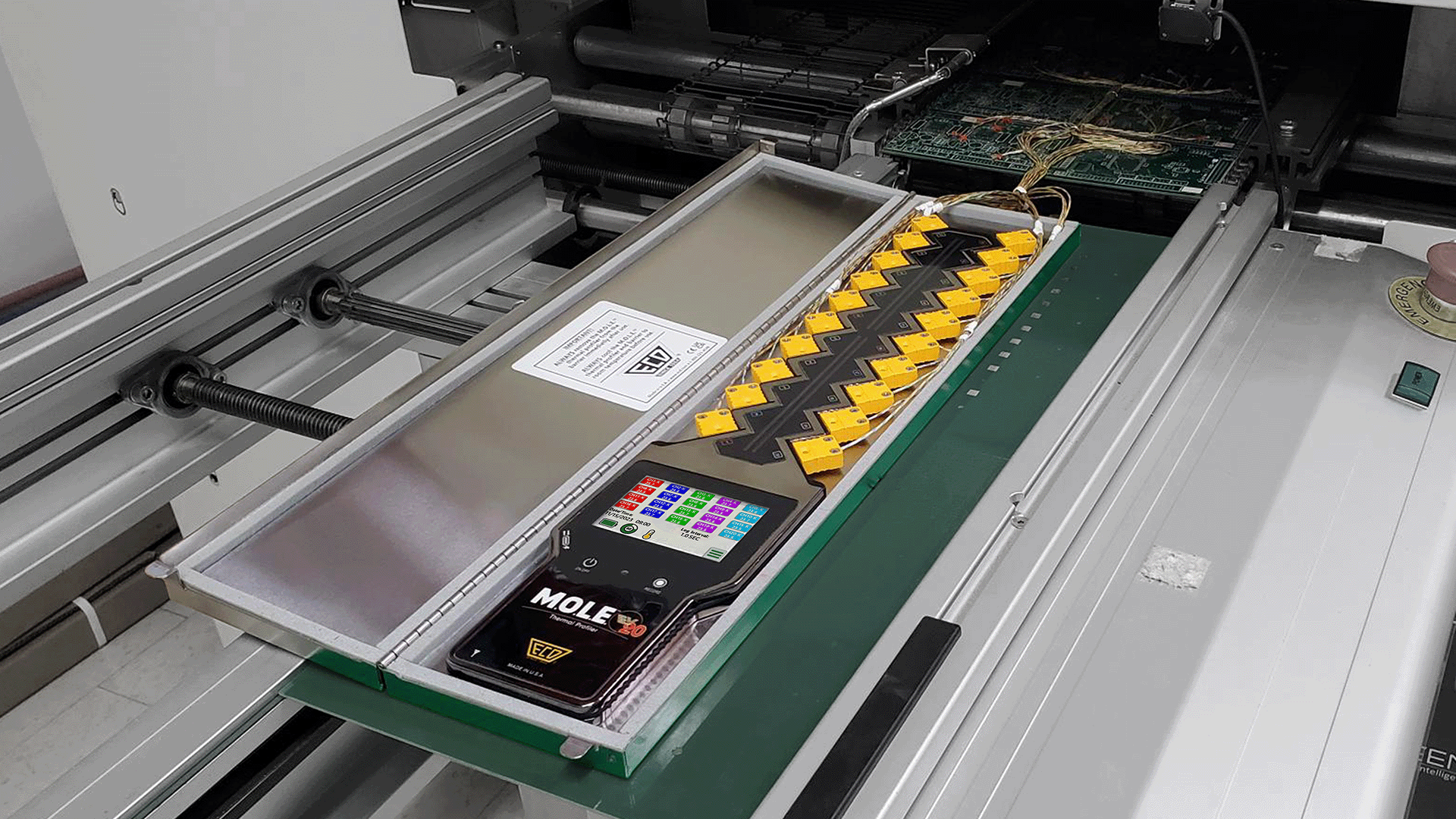 Want to be notified of news like this? Become an ECD Insider and be in the know first.
ECD Introduces 20-Channel M.O.L.E.™ EV20 Touchscreen Thermal Profiler
Latest EV-series M.O.L.E.™ Brings Touchscreen Thermal Profiling Productivity to High-Density, High-Reliability Assemblies.
November 14, 2023 – ECD announced today that it has developed a new 20-channel M.O.L.E.™ touchscreen thermal profiler for high-value, high-reliability electronic assemblies that require multiple thermal measurements. The M.O.L.E.™ EV20 is the second product in ECD's EV-series thermal profilers, built on the market's only profiling platform with full-color touchscreen control. M.O.L.E. EV20 replaces the company's MEGAM.O.L.E.™ 20 and delivers significant ease-of-use and technological enhancements.
Foremost among the M.O.L.E. EV20's productivity benefits is the process control immediacy it offers operators. Thermal profiles can be seen in real time, allowing corrective actions if required. By contrast, other thermal profilers require a PC data download, which adds time and complexity to the process. Calculation templates, configuration, profile selection and modification, and pass/fail analysis are all managed through the intuitive, handheld touchscreen M.O.L.E. EV20. The ability to interact with and control the profiler on the shop floor helps reduce required operator training, limits errors, and raises efficiency.
While the touchscreen management capability is the most significant element of the redesign, the new M.O.L.E. EV20 has also integrated user-friendly and economical features compared to its predecessor, as ECD Electronics Division, Mark Waterman explains: "We wanted to use the new platform as an opportunity also to add simplicity and cost-effectiveness to high channel count capability. For example, M.O.L.E. EV20 uses standard mini-connectors as opposed to proprietary thermocouple inputs, has universal USB C charging, Bluetooth® wireless connectivity, an off-the-shelf battery, two-button on/off and record control, and built-in maintenance reminders. Moreover, our unique design has maintained the same thermal barrier thickness and width as MEGAM.O.L.E. 20."
The dimensions of M.O.L.E. EV20 are notable because the thin, narrow profile allows the data logger to comply with all reflow oven clearance restrictions while allowing 20 measurements to be collected in a single run. This is not the case with all multi-input profiling options. With other profilers, the device design is very thick to accommodate high channel counts, or multiple runs must be conducted to collect the numerous readings required for densely populated, high-value PCB assemblies.
"Our engineering team thoughtfully designed M.O.L.E. EV20 with the operator's perspective in mind," Waterman explains. "We're confident our newest touchscreen EV profiler ticks all the boxes."
Discover more here.
---
Except as otherwise noted, all marks used herewith are trademarks and/or registered trademarks of ECD and/or its affiliates in the US and elsewhere
About ECD
Founded in 1964, ECD is recognized worldwide for its leadership and expertise in thermal monitoring and analysis technology and, more recently, for its development of intelligent dry storage systems. Based in Milwaukie, Oregon, the company is a pioneer in the design, development, and manufacture of advanced in-transit thermal profiling systems and software used to monitor and analyze process temperatures in various industries including electronics, solar and baking, among others. Well-known for its data-rich software expertise and robust hardware functionality, ECD leads the industry for innovative measurement and safeguarding systems. For more information on ECD and its products, visit www.ecd.com.
Media Contact:
Laura Sims
Sims Communications, Inc.
(o) 770-829-4757
(m) 404-661-0348
laura@simscomm.com