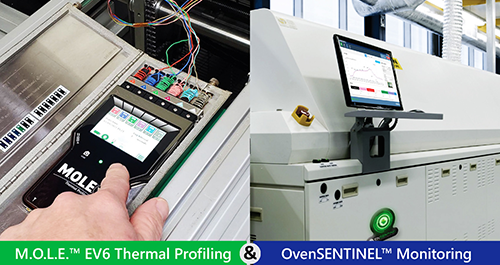 Want to be notified of news like this? Become an ECD Insider and be in the know first.
ECD to Showcase Market's First Touchscreen Thermal Profiler, Highlight Top Reflow Monitoring Solution at SMTconnect 2023
M.O.L.E.™ EV6 Delivers Factory Floor Handheld Thermal Profiling Control, Pairs Perfectly with OvenSENTINEL™ Reflow Monitoring.
April 25, 2023 – Following a highly-successful Americas launch earlier this year, ECD today announced that its revolutionary M.O.L.E.™ EV6 thermal profiler will be shown live in Europe for the first time during the upcoming SMTconnect 2023 event in Nuremberg, Germany. As the market's only traveling thermal profiler with full color touchscreen control, M.O.L.E. EV6 frees personnel from the PC, as profile data can be viewed directly on the device. This time-saving solution complements ECD's award-winning OvenSENTINEL™ reflow monitoring system, which will also be demonstrated at SMTconnect from booth #4-317. As electronics manufacturers look to improve productivity and automate process insight, OvenSENTINEL has seen a doubling of installations year-on-year. When paired, M.O.L.E. EV6 and OvenSENTINEL deliver an unparalleled solution to setting, maintaining, and verifying reflow process parameters for advanced PCB assemblies.
Mike Hayward, ECD EMEA Director of Operations, notes that all ECD's process control tools – especially M.O.L.E. EV6 and OvenSENTINEL – embody the theme of this year's SMTconnect event: 'Driving manufacturing forward'. "M.O.L.E. EV6 marks the most significant development in thermal profiler technology in ten years," he explains. "Touchscreen control is long overdue in the profiling arena, and we are proud to be the first to bring it to market. Now, users can view and interact with process calculation templates, view profiles, and see pass/fail analysis in the palm of their hand. This simplifies the profiling process, raises productivity, reduces errors, and allows on-the-fly decision-making. Likewise, OvenSENTINEL offers dynamic and customizable real-time monitoring of the reflow process, taking the burden off operators while delivering deep data-supported product traceability – all in an open communications protocol."
The feature sets of both systems are impressive, with highlights including:
M.O.L.E. EV6:
Instrument status display with live temperature readings
USB-C communications and charging
Wireless capability via Bluetooth
Compatible with multiple thermocouple types
No PC downloads required; all data displayed on-screen, on the device
Built-in calibration reminders for maintenance simplicity
Seamlessly integrates with all RIDER™ verification tools: OvenRIDER™, WaveRIDER™, and SelectiveRIDER™ for a complete, multi-process, soldering machine verification system
OvenSENTINEL:
Dynamic measurement capabilities with customizable data extractions and sensor types
Open architecture, Industry 4.0-enabling
Interface supports multiple lanes, ovens, and factories
Profile SnapShot™ one-button, on-demand profile confirmation of oven readiness and KPI alignment
TrueProfile™ trusted traceability technology
Both M.O.L.E. EV6 and OvenSENTINEL will be displayed in booth #4-317 throughout the three-day SMTconnect exhibition, May 9 – 11. To learn more, visit www.ecd.com or email mike.hayward@ecd.com.
---
Except as otherwise noted, all marks used herewith are trademarks and/or registered trademarks of ECD and/or its affiliates in the US and elsewhere
About ECD
Founded in 1964, ECD is recognized worldwide for its leadership and expertise in thermal monitoring and analysis technology and, more recently, for its development of intelligent dry storage systems. Based in Milwaukie, Oregon, the company is a pioneer in the design, development, and manufacture of advanced in-transit thermal profiling systems and software used to monitor and analyze process temperatures in various industries including electronics, solar and baking, among others. Well-known for its data-rich software expertise and robust hardware functionality, ECD leads the industry for innovative measurement and safeguarding systems. For more information on ECD and its products, visit www.ecd.com.
Media Contact:
Laura Sims
Sims Communications, Inc.
(o) 770-829-4757
(m) 404-661-0348
laura@simscomm.com